Rnd6 Rally Italia Sardinia June 5-8 2014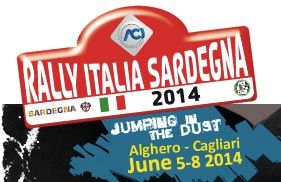 Official Website:
rallyitaliasardegna.com/en
Listen Live:
wrc.com/live_popup_radio
What's new for 2014
West coast town of Alghero replaces Olbia as the base and location for the service park.
The island's capital, Cagliari, welcomes the rally for the first time. Thursday's start and opening stage will be held there after which cars will be transported back to Alghero.
Oschiri hosts a remote service during the opening leg.
Two stages have been combined to form the massive 59.70km Monte Lerno. Could this be the longest stage of the 2014 season?
Don't miss
The spectacular Micky's Jump in the Monte Lerno test. The road literally falls away beneath the car and it's one for the brave and fully committed…….
....