Hi, I've been lurking here for a little while, hitting all the links posted in search of more information on a car I will be bringing home on May2nd. I've found some fantastic pictures and stories following the links posted in various threads, none of my car but nonetheless, some great period photos as well as some very interesting information. I've found on Rally Racing News some records of where the car finished in some rallies, which is cool. Let me give a little background, sorry if this rambles. I'm a VW nut who started looking for a project car back in 1998 (I've since had 2 of them and still am working on them) when I joined the VW usenet group RAMVA. I posted something along the lines of 'looking for project VW to work on with son' and got an interesting reply. A man a few towns away from me up here in NH had a 73 Super Beetle that used to be a rally car and wanted it out of his yard, was I interested in it? We communicated back and forth a few times and I made the trip to see it. The car didn't belong to him, he used to be an occasional navigator and was storing it in his yard for the owner who had retired to NJ and now he was looking to get it out of his yard. Sitting under a tree was this orange and black Super with old SCCA and Uniroyal logos on it (and this strange crazed duck sticker too). Closer inspection showed this wasn't just an any old VW but was actually a competition car. It had rally gauges, full cage, competition seats and harness, etc. The man, Bill, and his wife Stef were wonderful and I really enjoyed talking to them. They told me some history about this car, how it was campaigned in the early 70s in the USA and worldwide in professional rally racing and was even in a photo in a magazine. Since they didn't actually own the car, they couldn't sell it to me directly but they thought the owner would do so inexpensively so they put me in touch with him. He was a wonderful character and spent several hours on the phone with me detailing the history plus the cache of parts he had stored. He wanted it to all go as a package for about $2500, more than I had or was willing to spend at the time so I had to pass on the deal. I really fell for that car and thought about it often over the past 11 years, wondered if any of the members of RAMVA that I tried to put in touch with the owner ever got it.
Last week I'm on Freecycle looking to get rid of some stuff when I come across a post for free firewood with an email address that looked familiar. I took a chance and shot an email to them asking if they were possibly the same people from 11 years ago, and if they were, whatever happened to the car. Well, if you couldn't guess by this point, they are the same people. The car is still there. The owner passed about 6 months ago and just this past weekend they were talking to his widow and she just wanted them to get rid of it. I could have it for free as long as I did something with it. I couldn't say yes fast enough. I've thought many times over the past 11 years about this car and never thought I'd see it again, let alone own it.
So, I got to go up and see it last week. Spent some time talking to Bill and Stef, got a little more info on the car. Not a complete history because so much time had passed and Bill was the navigator, Al the owner (since passed) wrenched on the car more...but had a great talk with them anyway. Bill told a few stories about running in the Alcan with this car and a rally in Mexico. The car was photographed for an article on the Alcan in Road & Track, I believe some time in the 80s. Bill hoped I wouldn't be disappointed because the stock engine isn't in the car, it is still down in NJ with the rest of the parts, or that car would take some work to return to stock
. He seemed pleased I didn't want to return it to stock and instead wanted to restore it to its competition days. The motor in the car current was 'really warmed over' but the details not known. I guess I'll find out when I get it home and dive into it! Bill did mention the brakes were upgraded, I looked and could see disks on the front with Porsche on the calipers. Under the hood (getting crumbly along the bottom edge, after releasing the rubber clamps, is a custom strut bar and connections for the calibrated odometer. The car has a nice heavy front skid plate and mounts for a tow bar plus hard points for driving lights. Inside are two old-school (but pretty nice) racing buckets, several custom gauges (couldn't see what they were in the fading light, roll cage,no back seat, racing harnesses, and surprisingly solid floors. Other parts of the body, not so pretty, the running boards are shot, the rockers look soft, the fenders need love, etc, but overall, for a car that has sat outside under spruce trees for over 10 years, not that bad of shape. Bill and both think because the tires are not flat due to having tubes in them, the car didn't come into as close ground contact as most cars that would have sat like this, helping keep some of the rust at bay. I've talked to Bill, who's full name is Bill Todd and the former owner was Al Schmit, many times over the past week and he remembers some basics but the details not so much. He only rallied with Al on occasion. I've found many results of rallies from the mid-70s to mid-80s for the car. I'm hoping someone might know more or even have a picture of two that might have my car in it. My plan is to restore it to how it was when it rallied. Beyond that, I don't know but this car is going to be part of my family now
If anyone can help, I'd greatly appreciate it. I know it ran the Alcan in 85 and 86 with Bill and Al as well as a couple of 24 Hours of Mexico. I've found some results where it ran in the Big Bend Bash in the 70s, as well as a couple of POR up through the 80s. I used to follow rallying when I was in high school and got Pickup, Van and 4wd regularly. Once I got my license, I got bit by the drag racing bug and drifted away until I found this car. Thank you for taking the time to read this long post and thank you in advance for any info you might have to share.
Pulling up the drive: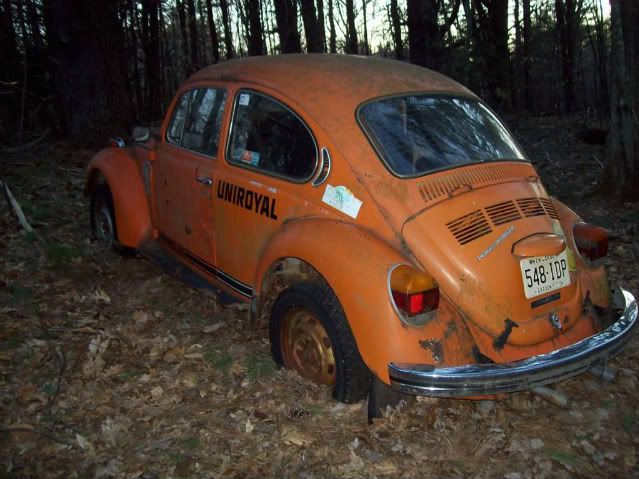 I really need to find out the deal with the duck decal!
Uniroyal.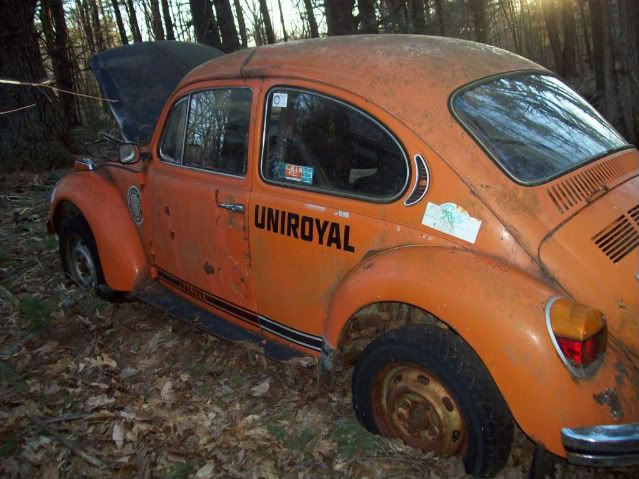 Tires still have air!
Umm, I think these flares are not going to work any more...
Looking back