1994 Subaru Impreza Open Light Rallycar (current logbook)
built for Time-Speed-Distance (TSD) on and off road stage rally events: This build has competed in only 4 events (NASA and Rally America). I collected parts for several years to piece this build together. Over $20,000.00 invested. Take advantage of the sum of the parts all custom installed, engineered, fitted and tested together in a truly capable package. This car is not pretty but has worked wonderfully.
This is basically a 1994 Impreza that has been upgraded to 05-07 STi, without the turbo. It has 5x114.3 hubs, 4/2 pot WRX brakes to fit under 15" wheels, etc. Carbon fiber DSS main driveshaft, Quick steer Howe Steering Quickener column on an 07 STi Steering rack, TSS Fab subframes and other goodies, already put together in a car you can drive and race.
2000 2.5RS SOHC engine (~89k miles); Injen intake modified with stock 2.5RS parts with a cone filter as well as the stock paper filter, changed after every event, (only 4 events on this build, 2017-19);
Group N engine mounts;
OBX Equal length headers connected to a full 2.5" exhaust with a Primitive Racing Cat at the rear exit for inspections;
Dodge Hellcat resonators / mufflers;
ACT Lightweight flywheel;
2007 STi 6 speed transmission connected with
Drive Shaft Shop (DSS) Carbon Fiber one-piece racing main driveshaft for 2004-07 STi and
matching R180 rear differential;
Group N transmission mount;
Group N shifter bushings;
Full braking system purchased new from KNS Brakes in 2016;
2006-07 Subaru WRX 4 pot front calipers, 2 pot rear calipers with
DB Rotors from KNS Brakes;
Hawk DTC70 Brake pads;
Goodridge SS Braided Brake lines;
2007 STi front control arms;
Hubs are 2005-07 Subaru STi 5x114.3 with the stronger wheel bearings with only 4 events on them;
This car has numerous upgraded power train components for durability and longevity.
Custom wheel scrapers mounted to the rear hubs with rubber strips;
2.5RS front sway bar with MOOG end links;
No rear sway bar installed;
JDM Aluminum hood; 2004-07 STi rear wing with Perrin strakes and a gurney flap;
Mishimoto 2" thick Racing radiator with slim fans and shroud with custom supports;
Primitive Racing 3/16" aluminum skid plate;
OMP Halo Seats driver and co-driver;
Front tow strap;
Rear tow hook;
Helmet hooks;
Rear cargo net;
Scroth 5 point harnesses (out of date);
NRG Steering wheel with version 3.0 NRG quick release;
Hands free communication system with Stilo helmet adapters;
TSS Fab custom front subframe;
TSS Fab custom rear subframe;
TSS Fab heavy duty rear lateral links;
TSS Fab rear trailing arms;
All TSS Fab parts are powder coated white.
2007 STi transmission cross member with poly bushings.
Feal 460 rally suspension with Group N top hats / bushings (with about 600 miles on them since new);
Kosei Race wheels 6 spoke, spray painted red;
15 gallon Fuel cell mounted in trunk;
2005 STi steering rack;
Howe Steering quickener on column;
Fully functional roof vent with fiberglass scoop;
USUK LED Light bar (12");
Kill switch; relocated ECU; heater works, no AC;
relocated horn button to co-driver side of car;
Sold AS IS.
Buyer is responsible for shipping / pick-up.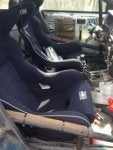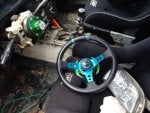 Accepting offers at:
https://www.ebay.com/itm/184383928698