(June 9, 2011) Subaru Rally Team USA has announced today the entry of team driver David Higgins for the final round the Global Rallycross Championship as well as the famed Mt. Washington Hillclimb this month. The multi-time British and American Rally Champion will drive the team's latest specification 2011 Subaru WRX STI rallycross car at the third and final round of the Global Rallycross Championship June 17-18 at Pikes Peak International Raceway in Colorado Springs. The following weekend, June 25-26, Higgins will travel to New Hampshire to compete in the legendary Mt. Washington Hillclimb in a Subaru STI built to the event's Open Class regulations.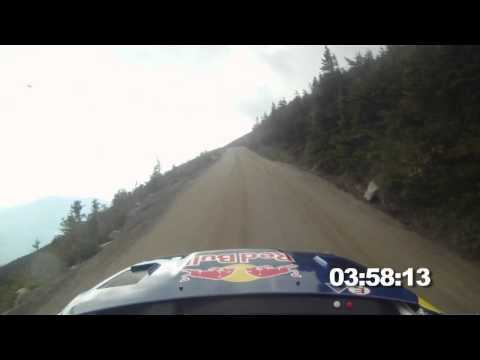 Higgins has been serving as testing and development driver for Subaru Rally Team USA's new rallycross-prepared Subaru STI all season in which teammate Dave Mirra has driven at the first two rounds of the Global Rallycross Championship. Higgins is expecting a big challenge as he has little rallycross experience but is confident his success in rallying and karting will help him succeed in Colorado.
"I have won eight karting championships with the latest one being just last year," explained Higgins. "I love the race craft needed and the buzz of all starting together and fighting for the first turn. Rallycross will be new to me but I hope what I have learnt from kart and rally experience along with all the testing I have done in the team's rallycross STI should serve me well."
Higgins will head to Mt. Washington immediately following the rallycross. The Mt. Washington Hillclimb, known as the Climb to the Clouds, is considered one of the oldest motorsports events in the United States. The Climb to the Clouds was first run in 1904, seven years before the first Indy 500 and twelve years prior to the inaugural Pikes Peak Hillclimb. The 2011 Mt. Washington Hillclimb will be held June 24-26 at New Hampshire's Mt. Washington Auto Rd. The 7.6 mile Auto Road is one of the ultimate challenges for driver and automobile, the serpentine tarmac and gravel road is lined with trees and dramatic drop-offs as it winds its way to the 6,288 foot summit of the Northeast's tallest peak. The Mt. Washington Auto Road's history goes well beyond just the Hillclimb as it celebrates its 150th anniversary this summer.
At Mt. Washington David Higgins will drive a lightened and more powerful version of his Vermont SportsCar prepared 2011 Subaru STI that he has driven this season in the Rally America National Championship, where he has won three events in a row and leads the driver standings with just one round remaining. Higgins' Subaru STI represents an evolution of the car that former Subaru Rally Team USA driver Travis Pastrana utilized last fall to unofficially best the Mt. Washington Hillclimb record by over twenty seconds in a filmed test session. Higgins will drive in the Open Class, the event's premier class which does not allow the use of co-drivers.
"After looking at the video from Pastrana's impressive run there I know this road is going to be a mega challenge," explained Higgins. "On notes with a co-driver would be just like a rally for me, but doing it on my own with such a light and powerful car is going to be one of the biggest challenges I have ever encountered. It would be really cool to have that record though, and I plan on going for it! This is likely to be one of the best roads I have ever competed on and I'm really looking forward to it."
For more information about the Mt. Washington Hillclimb please visit: www.climbtotheclouds.com
Subaru Rally Team USA is proudly supported by Subaru of America, Inc., Subaru Tecnica International (STI), Subaru Performance Tuning (SPT), BFGoodrich Tires, RECARO, Vision X, Alpinestars, Motul, Exedy, VP Fuels and Vermont SportsCar. For more information on Subaru Rally Team USA, as well as exclusive photo and video galleries visit subaru.com/rally and for the latest news follow the team on Twitter: twitter.com/srtusa.
Comments
comments
Powered by Facebook Comments